World War 2 - Relics and Documents
Colorful Army Program from 1942 Show (REDUCED!)
Item #: JMS-86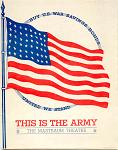 Click on an image to enlarge
Pictured, you see the vivid cover of a 32 page, 9" by 7" program for the musical "This Is The Army". It was put on at the Mastbaum Theater in Philadelphia by military personnel in 1942 -- a time when morale needed a boost everywhere. Inside are guides to the players, musicians and to the theater. There are also copious ads -- some of which express confidence in ultimate victory. Others just offer goods and services at shockingly low prices by todays standards. It's a hoot to read the ads! A few of the ads even apologize that the business owners are unable to personally attend the show, but they are off fighting or training for the fight!! Great, huh? There are also some wonderful anti-Hitler, Tojo and Mussolini cartoon drawings (pen & ink only) on some of the pages where advertising space couldn't be sold. All the pages are present and in FINE condition. Some have come loose from the staple binding. Best part about the program? It would frame up brilliantly and be a real eye-catcher.
IF YOU WANT TO ORDER AN ITEM…
(or just ask a question about it) please email me directly at cwartifax@gmail.com
Using the "Order Information" button right below the price USUALLY works, but not always.  I don't know why, but it could have to do with spam settings on either end. The easiest way to order or inquire about an item is simply to email me directly.  Again, my email address is cwartifax@gmail.com
Thanks!
(Sold)
---
All firearms sold are pre-1898 and historic collectibles. They are not meant to be fired. Jim Stanley & Associates (cwartifax.com) will not be liable for injury incurred due to any weapon or artifact purchased from this site. All artillery projectiles sold by Jim Stanley & Associates are absolutely safe and have been professionally and safely de-activated.