Veterans Items - GAR and UCV
Cool Post Civil War Lecture Ticket to Hear Major who was WIA at The Wilderness
Item #: JMS-139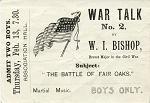 Click on an image to enlarge
Exceptionally nice little ticket admitting two boys to hear Major Willard I. Bishop, late of the 10th Massachusetts Infantry. Bishop was promoted four times during the war, having enlisted as a Sergeant. On May 5th of 1864, he was wounded in action during the battle of The Wilderness. Ten months later, he received a brevet to the rank of Major.
Condition of the ticket is excellent. It would frame up beautifully! The purchaser of this neat little piece will receive a copy of Bishop's record, which includes a photocopy of his Civil War CDV. Alas, I do not own the CDV or this ticket would not be for sale!
IF YOU WANT TO ORDER AN ITEM…
(or just ask a question about it) please email me directly at cwartifax@gmail.com
Using the "Order Information" button right below the price USUALLY works, but not always.  I don't know why, but it could have to do with spam settings on either end. The easiest way to order or inquire about an item is simply to email me directly.  Again, my email address is cwartifax@gmail.com
Thanks!
Shipping Weight: 1 lb
Your Price... $50.00 USD
---
All firearms sold are pre-1898 and historic collectibles. They are not meant to be fired. Jim Stanley & Associates (cwartifax.com) will not be liable for injury incurred due to any weapon or artifact purchased from this site. All artillery projectiles sold by Jim Stanley & Associates are absolutely safe and have been professionally and safely de-activated.