Photography and Other Images - Civil War CDV's, Hard Images, Engravings
Attractive CDV of Abolitionist Preacher Henry Ward Beecher
Item #: JMS-79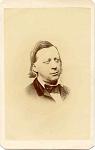 Click on an image to enlarge
This is an exceptionally clean CDV of the famed abolitionist. Beecher was renowned for his oratory and routinely drew crowds of 25 hundred or more during Sunday services. His opposition to slavery led him to raise funds to support the abolitionist cause in Kansas. Some of these monies were used to purchase firearms, which became known as "Beecher's Bibles". Beecher was the son of noted minister Lyman Beecher and the brother of Harriet Beecher Stowe, who authored "Uncle Tom's Cabin". Henry was also a committed supporter of women's suffrage and the temperance movement. This image is in perfect condition, but for the minute clips on each corner. No doubt, this was done a century ago...to accomodate insertion into an album. Beecher views are not particularly rare, but they are important to any Civil War or antique photo collection.
IF YOU WANT TO ORDER AN ITEM…
(or just ask a question about it) please email me directly at cwartifax@gmail.com
Using the "Order Information" button right below the price USUALLY works, but not always.  I don't know why, but it could have to do with spam settings on either end. The easiest way to order or inquire about an item is simply to email me directly.  Again, my email address is cwartifax@gmail.com
Thanks!
Shipping Weight: 1 lb
Your Price... $24.94 USD
---
All firearms sold are pre-1898 and historic collectibles. They are not meant to be fired. Jim Stanley & Associates (cwartifax.com) will not be liable for injury incurred due to any weapon or artifact purchased from this site. All artillery projectiles sold by Jim Stanley & Associates are absolutely safe and have been professionally and safely de-activated.